Behaviour Interactive launches Meet Your Maker worldwide on Steam, PlayStation and Xbox
Behaviour Interactive, creators of the multiplayer horror hit Dead by Daylight, launches today its most recent title, the first-person building and raiding game Meet Your Maker. Starting now, players can explore the devastated wasteland to collect the precious pure genetic material and put their devious minds to work building deadly Outposts.
Meet Your Maker is available as part of the PlayStation Plus Monthly Games lineup at launch and in both a Standard Edition ($29.99 USD) and a Deluxe Edition ($39.99 USD) – including the Scorched Necropolis DLC – on Steam, PS4, PS5, Xbox One, and Xbox Series X|S stores.
"Our team at Behaviour Interactive is thrilled to see our game officially out in the world! Today marks the moment we have all been eagerly living for in the past three years," says Ash Pannell, Creative Director of Meet Your Maker. "We cannot wait to see where our community of players will take our game and how they will use their skills to create to destroy."
The Scorched Necropolis Collection expands building and raiding strategies
The Scorched Necropolis Collection is available with the Deluxe Edition or as a standalone DLC ($14.99 USD) on all platform stores (Steam, PlayStation Store, Xbox Store).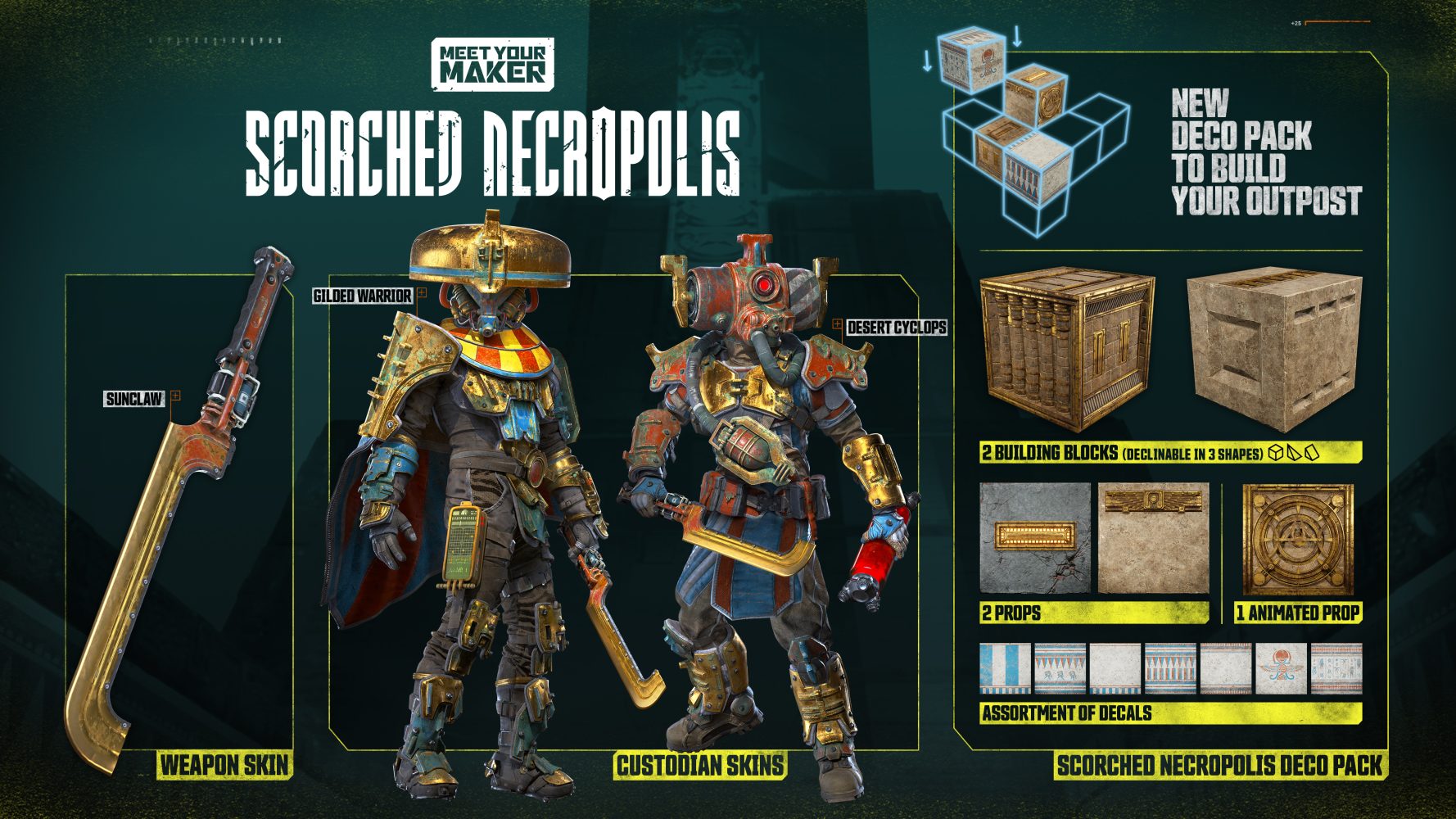 The Scorched Necropolis DLC contents:  
Scorched Necropolis Deco Pack 

2 Blocks (available in 3 shapes each): Limestone, Golden Age
3 Props: Winged Molding, Temple Light, Spinning Enigma  
8 Decals 


1 Scorched Necropolis Weapon Skin 
2 Scorched Necropolis Custodian Skins 

Desert Cyclops, Gilded Warrior  
Regular, new, and ever-changing content coming to Meet Your Maker
Starting as soon as two weeks after launch, Meet Your Maker will see a regular pace of updates to bring new content to the game that will influence the meta, all culminating in late June 2023 with the arrival of our first major content update with Sector 1: Dreadshore.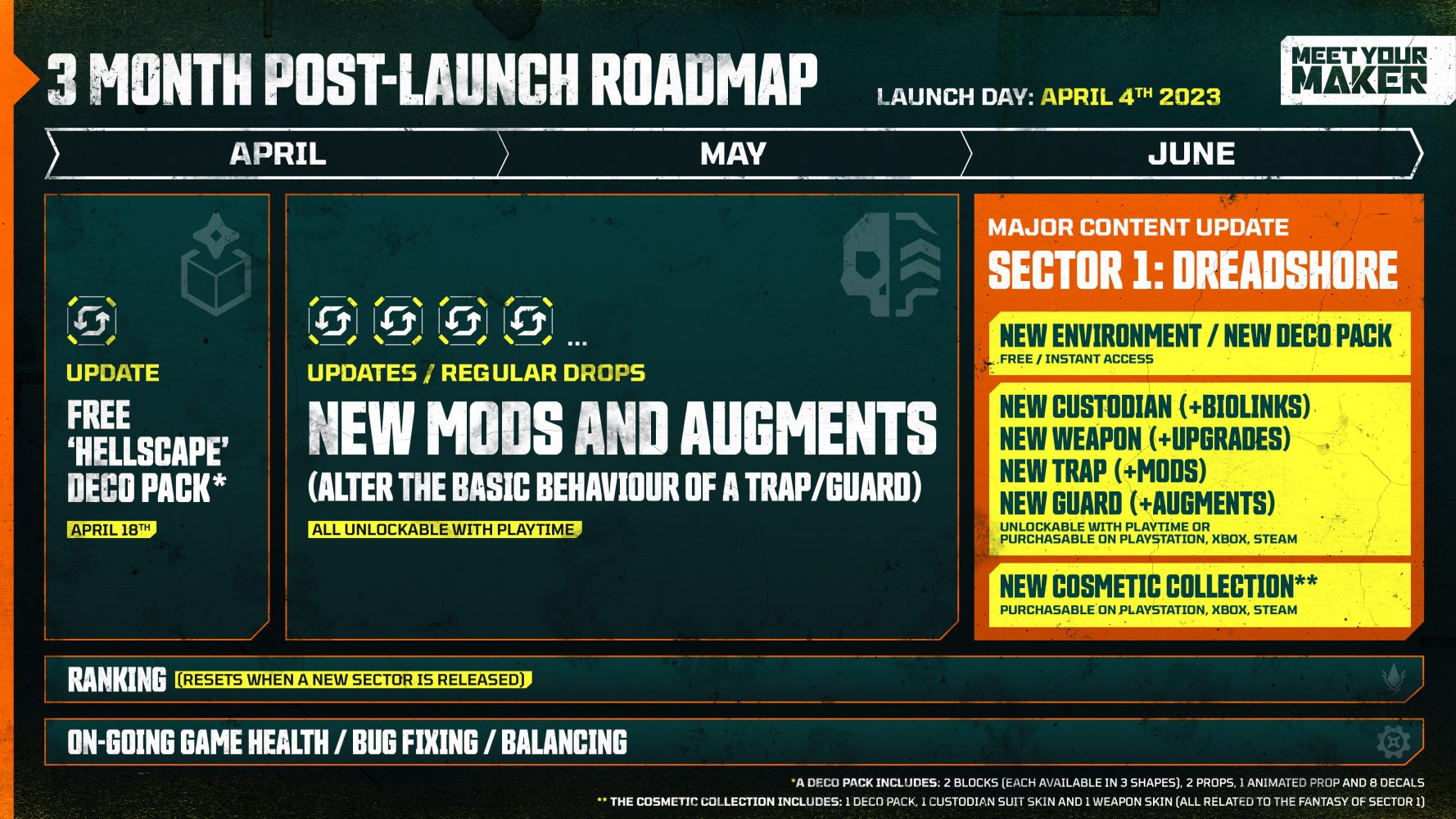 Players can expect a series of new content to drop in the wasteland, including:
New Hellscape Deco Pack: Free/Instant Access (April 18th) 

2 Blocks (each available in 3 shapes)
2 Props 
1 Animated Prop
8 Decals
New Mods and Augments: Free/Unlockable with Playtime (Regular Drops) 
Major Content Update – Sector 1: Dreadshore (End of June)

1 New Environment (Free/Instant Access) 
1 New Deco Pack (Free/Instant Access) 
4 New Gameplay Elements (Unlockable via playtime or purchasable on PlayStation, Xbox, or Steam) 

Custodian + Perks
Weapon + Upgrades
Trap + Mods
Guard + Augments

1 New Cosmetic Collection (Purchasable on PlayStation, Xbox or Steam) 
Behaviour Interactive's universes merge together
To celebrate the launch of our newest title, Meet Your Maker and Dead by Daylight worlds collide to bring together unique cross-promotional content in both games. The rewards are automatically available to the players who own both games. No extra steps needed. 
The exclusive cross-promotional rewards players will receive if they own both games include:  
In Meet Your Maker
Dead by Daylight deco pack, featuring: 
2 Building blocks inspired by the Macmillan Estate Realm 
1 Animated Generator Prop 
1 Pallet Prop 
1 Basement Light Prop 
An assortment of decals including Scratch marks, Blood Trails, Bunny Feng, Nea's Grafiti, and more. 
In Dead by Daylight
A very rare Pentekath's Suit for Meg Thomas 
3 unique Killer weapons for The Trapper (Crunching Blade), The Huntress (Toothed Axe), and The Wraith (Biomechanical Spine)  
About  Meet Your Maker
From the creators of Dead by Daylight comes Meet Your Maker, Behaviour Interactive's new spin on the building-and-raiding genre. Set in a post-apocalyptic future, players take on the role of the Custodian, servant to the Chimera: a biological experiment, and the key to humanity's salvation. Tasked with seeking out uncorrupted genetic material, they must defend and steal this vital resource by building and raiding deadly maze-like structures known as Outposts. Designed for strategy and action fans alike, Meet Your Maker will grow over time, adding new content and featuring an ever-expanding toolbox of traps, guards, and gear. Meet Your Maker will be available April 4th, 2023 on all platforms – Steam, PS4, PS5, Xbox One, and Xbox Series X|S. For more information, visit meetyourmakergame.com.
About  Behaviour Interactive
Behaviour Interactive is the largest Canadian gaming studio, with more than 1,200 employees worldwide. Behaviour is best known for its flagship franchise, the multiplayer survival horror game Dead by Daylight, which has entertained over 50 million players across multiple platforms. The studio is currently expanding its portfolio of original IP with multiple projects, including the highly anticipated base building and raiding title Meet Your Maker. Behaviour has also established itself as one of the world's foremost providers of external development services.  The company has partnered with many of the gaming industry's leaders, including Microsoft, Sony, EA, Warner, Netflix, and Take-Two, among many others. Over 30 years, Behaviour has developed an unparalleled, award-winning culture. The company was named one of the Best Places To Work in Canada by GamesIndustry.biz, and has been recognized with Deloitte Canada's Enterprise Fast 15 and Best Managed Company awards. Headquartered in Montreal, Behaviour has expanded its global presence with studios in Toronto (Behaviour Toronto), Seattle (Midwinter Entertainment), and the United Kingdom (Behaviour UK – North). For more information, visit www.bhvr.com.   
© 2015-2023 BEHAVIOUR, MEET YOUR MAKER, DEAD BY DAYLIGHT and other related trademarks and logos belong to Behaviour Interactive Inc. All rights reserved.
For media inquiries: 
Alexandre Lainesse, Behaviour Interactive
alainesse@bhvr.com