PEOPLE OF BEHAVIOUR
Frederic Hamel
Position: Programming Technical Director
Team: Digital
The COVID-19 pandemic has triggered a global wave of creative thinking as scientists and engineers race to turn the tide and limit its human toll.  
Frederic Hamel, a Programming Technical Director at Behaviour, has been part of this response, joining forces with a team of nine others dubbed The Coronerds in the Code Life Ventilator Challenge. 
Organized by the Montreal General Hospital Foundation and the Research Institute of the McGill University Health Centre, the competition gave participating teams 10 days to design a low-cost, easy-to-use and easy-to-build ventilator that can serve patients afflicted with the COVID-19 virus. 
The Coronerds were assembled by Dr. Erika Nguyen, an anesthesiologist and respiratory therapist at the Montreal Children's Hospital. Frederic was contacted by a member of the team who knew he had the electronics and real-time software chops that The Coronerds needed.
"I was a little hesitant at first to commit to such a crunch without a clear vision," he says. "However, it became absolutely clear to me after my first conference call with them how serious and competent the team was."
With his spouse's blessing to join the team and "disappear into a black hole for 10 days," Frederic threw himself into the competition.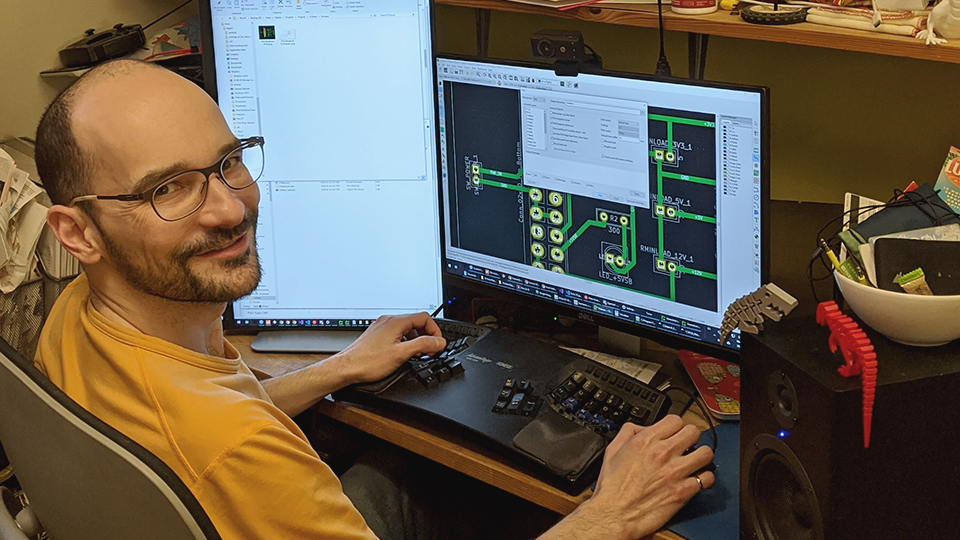 "It was very long hours and short nights, with daily conference calls at 8 p.m.," he says. "We hit a number of issues along the way, many related to lockdown logistics, but we ultimately got the prototype working and endorsed by the medical members of our team."
Frederic's contribution was the design and assembly of the electrical parts for The Coronerds' prototype and writing both its control logic (the machine's "brains," as he describes it) and communication logic, which links the machine and the computer/user interface. 
He explains how it all works in this video.



Of the 1,029 teams to enter the competition, The Coronerds finished among the top 65! 
The three winning designs should be announced April 15. 
"It's all been tremendously gratifying and we learned a tonne," Frederic says. "We are proud of what we managed to achieve, particularly given the logistical constraints of the lockdown and the limited time."
"It's really about getting novel ideas out there to hopefully help the world and do something about this crisis."