Dead by Daylight™ for Nintendo Switch™ Now Available
Montreal, Canada— September 24, 2019— Behaviour™ Interactive today launched Dead by Daylight™ for Nintendo Switch™, available on the Nintendo eShop and at participating retailers around the globe for $39.99. The brand-new edition of the classic horror multiplayer game bursts with a ton blood-curdling content, including 9 killers, 10 survivors, and 3 cosmetic packs. Additional chapters are available for purchase, including the brand new Stranger Things add-on.
With Dead by Daylight, players will find themselves in a mind-bending hunt between a brutal killer and up to four survivors—on Nintendo Switch playable whenever and wherever they are! Experience a deadly game of cat and mouse with two styles of gameplay—as a survivor, from third-person perspective; or the killer, in first-person perspective. Survivors can work together or act alone using their situational awareness, while killers are on the hunt in first-person, focused on their prey.
Exclusive Switch Trapper cosmetic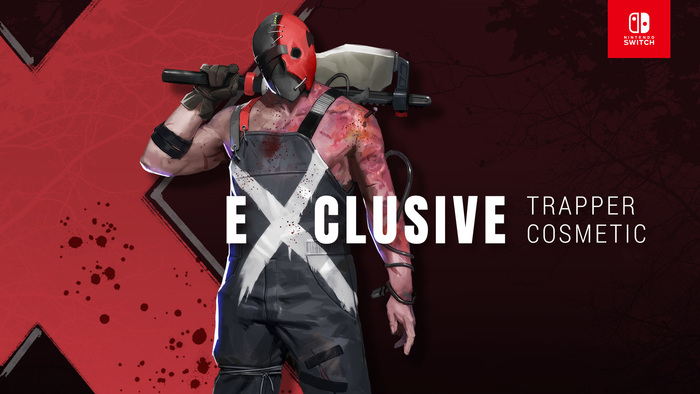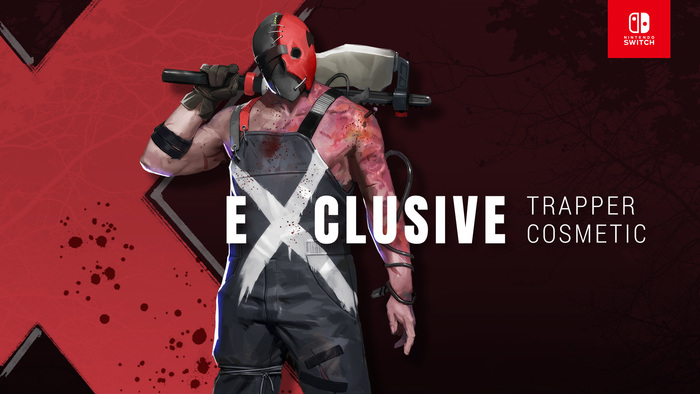 Players who purchase Dead by Daylight on Switch will be awarded an exclusive cosmetic for the Trapper, the game's iconic killer. This outfit is not for the faint of heart but rather for people looking to stand out in a trial.
"We are incredibly happy and proud to launch Dead by Daylight on the Nintendo Switch. This is another way for us to get the game into as many hands as possible. It is also a great opportunity for our players to play the game they love, anywhere. I would like to extend a warm welcome into the world of the Entity to Switch users. The first few games will be hard but hang in there… the upcoming victories will be worth it." said Mathieu Côté, Game Director for Dead by Daylight and Head of Partnerships for Behaviour Interactive.
About Dead by Daylight
Dead by Daylight is an asymmetrical multiplayer horror game in which one crazed killer hunts four through a terrifying nightmare. Players take on the role of both killer and survivors in a deadly game of cat and mouse. It's a mature gamer take on the thrills of hide and seek. Dead by Daylight is available on PC and consoles.

About Behaviour Interactive
Founded in 1992, Montreal-based Behaviour Interactive is one of North America's largest independent game developers with close to 600 employees and over 70 million games sold on every platform. To date, the company's mobile games have reached more than 200 million players worldwide. In 2019, its most successful IP, the award-winning Dead by DaylightTM, celebrated 12 million players. Behaviour counts amongst its partners some of the world's most recognized brands such as Sony, Disney, Netflix, Activision, Warner Bros, Ubisoft, Xbox Game Studios, Google, Bombardier, Wargaming, HBO, NetEase, Gaea, La Capitale, and many more. For more information: bhvr.com.
About Koch Media
Koch Media is a leading producer and distributor of digital entertainment products (games, films and software). The company's own publishing activities, marketing and distribution extend throughout Europe, North America and Australia. The Koch Media group has more than 20 years of experience in the digital media business, and has risen to become the number one publishing partner in Europe. It has also formed strategic alliances with numerous games and software publishers: Bethesda, Capcom, Codemasters, Kaspersky Labs, Konami, Koei Tecmo, Milestone, Sega, Square Enix, etc. in various European countries. With Headquarter in Höfen, Austria Koch Media owns branches in Germany, England, France, Austria, Switzerland, Italy, Spain, the Nordic regions, Benelux, Australia, Czech Republic and the United States. www.kochmedia.com
Source
Marie Claude Bernard,
Senior PR Manager,
Behaviour Interactive,
marieclaude.bernard@bhvr.com
Tim Westphal,
Senior Communications Manager,
Koch Media,
t.westphal@kochmedia.com
© 2015–2019 BEHAVIOUR, DEAD BY DAYLIGHT and other related trademarks and logos belong to Behaviour Interactive Inc. All rights reserved.
All product titles, publisher names, trademarks, artwork and associated imagery are trademarks, registered trademarks and/or copyright material of the respective owners. All rights reserved.