Behaviour Interactive Acquires award-winning Codeglue
Leading Canadian Developer Continues Global Expansion as Dutch Studio Marks Third European Investment in Last Six Months
Behaviour Interactive, the largest Canadian video game developer, today announced its acquisition of the Netherlands' Codeglue, an award-winning game developer. Behaviour's third European expansion in the last six months will further increase the company's access to the continent's historically rich pool of gaming talent.
"We are very pleased to build upon our strategic expansion into the UK by establishing our first presence in continental Europe," stated Rémi Racine, Behaviour's Co-Founder, CEO and Executive Producer. "The addition of Codeglue's experienced team further enhances the capabilities of our world-class Services division. We are always eager to pursue opportunities that align with Behaviour's needs and culture, and Codeglue represented a clear match on both these fronts."
Founded in Rotterdam in 2000 by high school friends Maurice Sibrandi and Peter de Jong, Codeglue has grown to become home to 30 employees. The studio is known for its expertise in co-development projects across all platforms and was named Best Studio at the 2022 Dutch Game Awards. Codeglue will now operate as Behaviour Rotterdam.
This represents Behaviour's third European expansion in the last six months. It follows the acquisition of Behaviour UK – North (formerly SockMonkey Studios) in February 2023 and the opening of a new studio, Behaviour UK – South (comprised of former Antimatter Games' employees), last month. All three studios serve to further strengthen Behaviour's industry-leading external development capabilities.
"Codeglue and Behaviour have much in common, having experienced the gaming industry's many evolutions over the past 23 years," stated Peter de Jong, who will serve as Behaviour Rotterdam's General Manager. "Over that time, we have always admired Behaviour's work and culture. We are thrilled to be the newest chapter in their success story."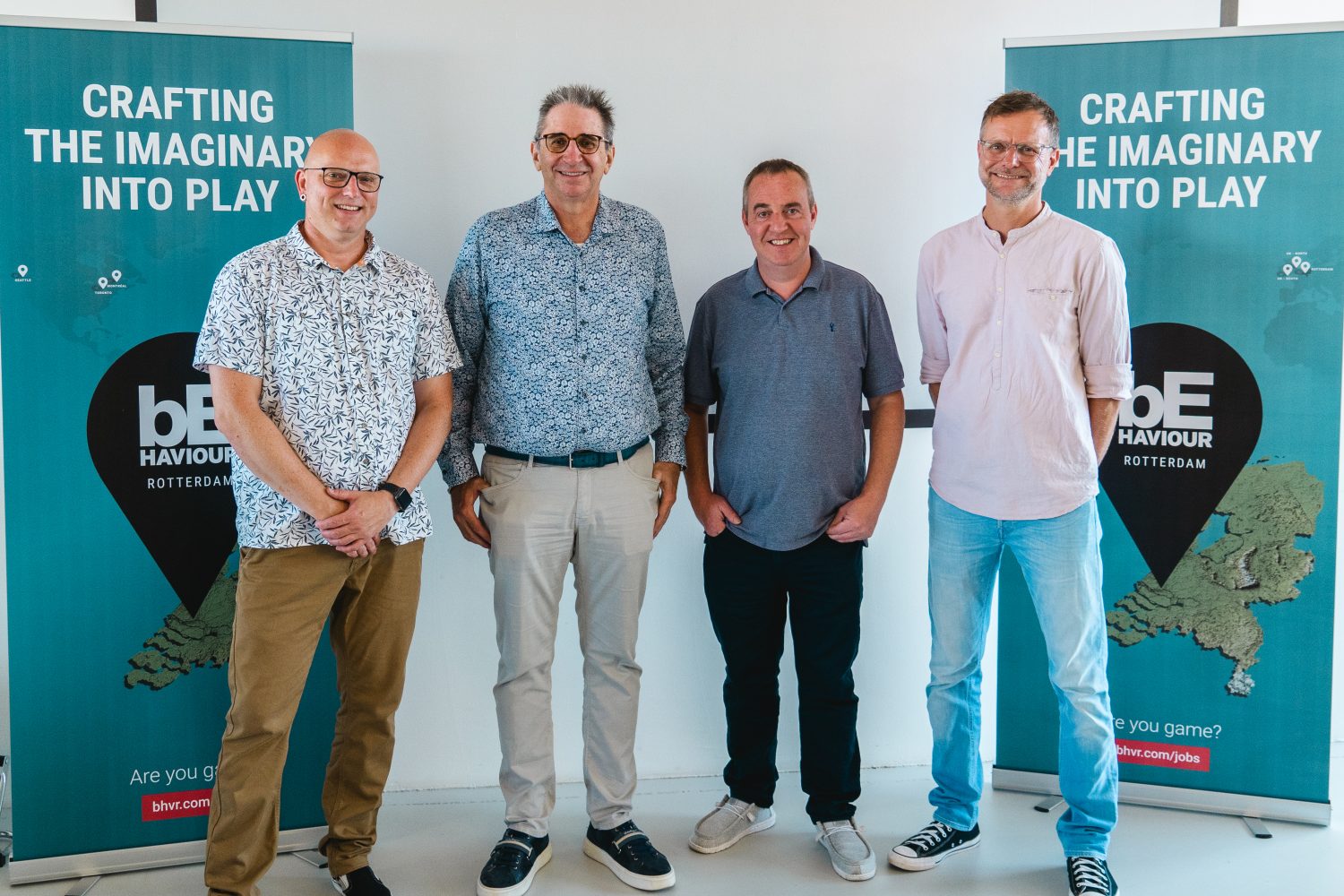 From left to right: Maurice Sibrandi, Rémi Racine, Wayne Meazza et Peter de Jong
Founded in 1992, Behaviour is a multi-faceted Canadian gaming studio renowned for creating and supporting genre-defying titles. The studio has enjoyed immense success with its original horror-action multiplayer game, Dead by Daylight™. Behaviour also provided external development services for many of the gaming industry's global leaders. Since April 2022, Behaviour has undertaken a major strategic expansion beyond its Montreal headquarters, establishing and acquiring studios in Toronto, Seattle, the United Kingdom, and now the Netherlands.
About  Behaviour Interactive
Behaviour Interactive is the largest Canadian gaming studio, with more than 1,200 employees worldwide. Behaviour is best known for its flagship franchise, the multiplayer survival horror game Dead by Daylight, which has entertained over 50 million players across multiple platforms. The studio is currently expanding its portfolio of original IP with multiple projects, including the recent release of acclaimed building and raiding title Meet Your Maker™. Behaviour has also established itself as one of the world's leading providers of external development services. The company has partnered with many of the gaming industry's leaders, including Microsoft, Sony, EA, Warner, Netflix, and Take-Two, among many others. Over 30 years, Behaviour has developed an unparalleled, award-winning culture. The company was named one of the Best Places to Work in Canada by GamesIndustry.biz, and has been recognized with Deloitte Canada's Enterprise Fast 15 and Best Managed Company awards. Headquartered in Montreal, Behaviour has expanded its global presence with studios in Toronto (Behaviour Toronto), Seattle (Midwinter Entertainment), the United Kingdom (Behaviour UK – North and Behaviour UK – South) and the Netherlands (Behaviour Rotterdam). For more information, visit www.bhvr.com.
© 2015-2023 BEHAVIOUR and other related trademarks and logos belong to Behaviour Interactive Inc. All rights reserved.     
For more information:
Geneviève Sorel
Director of Communications, Behaviour Interactive
gsorel@bhvr.com
1-514-973-2135