Let's get flexible! A look at our new way of working
The COVID-19 pandemic has fundamentally changed not just where we work, but how we think about work.
In blurring the lines between our work life and personal life to the extent that it has, the pandemic has brought into sharp relief the essential fact that our careers and our lives need to work together, not compete.
Greater employer flexibility and empathy for home-front challenges was vital these past 17 months and it will continue to be expected in the post-pandemic future. Employees won't accept anything less, and rightfully so.
Let's get flexible!
Let's be honest – we weren't big fans of people working from home prior to the pandemic. But it didn't take us long to realize that it works – and works extremely well. Flexibility gets results and we knew last year that we wanted our team to continue to enjoy it beyond the pandemic.
Behaviour is nothing if not creative and it inspired us to completely reimagine our approach to work. Last December we presented our team with the basic details of our permanent work-from-home plan and now, with our office finally expected to fully reopen this fall, everyone has been invited to choose one of three options: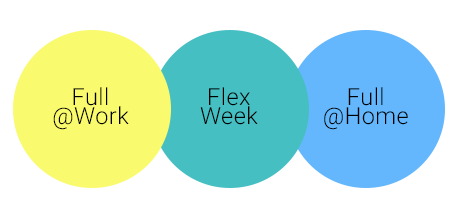 The names are pretty self-explanatory, but here's what each option involves:
Full@Work: Full-time at the office, five days a week
FlexWeek: A mixed week of 1-4 days worked at the office and the rest at home
Full@Home: Full-time working from home, five days a week.
Each member of our team will be invited to choose their preferred option and we will do everything we can to accommodate their request. Specific criteria will have to be met for each option, such as equipment and working conditions at home, but our goal is for everyone to feel they benefit. And all this wouldn't be truly flexible if we didn't give everyone the chance to change their selection. 
Our new Flex approach recognizes the resilience, hard work, dedication and productivity of our team during this challenging, historic time. It draws on the many lessons learned from our shift to remote work, which laid bare the now undeniable fact we can still get top-quality work done from outside the office.
Working from home works – the proof of that is everywhere here at Behaviour.